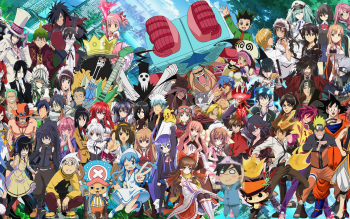 Japanese animation (or anime that many Westerners called it) is basically one of the biggest reasons as to why many people want to come to Japan. Anime is arguably one of the best ways for kids (and young teenagers) to learn about the quality life lessons that cartoons and reality shows can't really teach or hasn't taught them the right way. Plus, anime does have the unpredictability that can keep the viewers on their feet and guessing. 
What if you're the person that never watched anime before? Or the person that wants to start watching but doesn't really know where to start? While I am not an anime expert (just not a complete beginner), I'll show you the five anime series that you can start.
NOTE: It's from my perspective, and there are other people that would say differently or have their different point-of-view of what series to start your journey on.
Naruto & Naruto Shippuden
Naruto is basically one of the well-known anime series of all time. Basically, almost every anime fan will tell you to watch Naruto first before anything else. It's for a good reason to. Naruto has been in the anime world since 1997, created by Masashi Kishimoto.
The anime tells the story of Naruto Uzumaki, a child prodigy that dreams of becoming the Hokage (AKA town governor I should say). It deals with his pre-teen years in the Naruto series and his teenage years in the Naruto Shippuden series. 
The Naruto series is known to being one of the best-selling manga series in history (only losing to One Piece and Dragon Ball...) so the huge popularity is an understatement.
Why you should watch it?
There are tons of reasons to watch it: the great battle to see, the funny filter episodes, but the biggest reason is the storyline of the entire series. The main character, Naruto Uzumaki, has been hated and looked down in his entire town of Konoha because the sealed beast inside of him destroyed the town and killed one of the Hokages (in order to save the town) just hours after he was born. 
In spite of that, he barked on a huge journey filled with hardships and tough opponents in order to become Hokage. He met and touched many hearts with his knuckle-headed decisions but his optimistic thoughts and feelings he had to go through. It's the best show to learn about hardships of one's self and others and how optimism and perseverance can help overcome any hardship.
It was one of my personal favorites because it teaches me to fight for justice and for the people that you know and love and not for power and hate. Also, to keep being happy and optimistic even though the entire world is filled with hate and despair.
Captain Tsubasa
Captain Tsubasa has been a personal favorite for me since soccer is an extremely popular sport in Japan. Many soccer lovers in Japan and around the world would say the show was one of their favorite anime series when they were kids. Captain Tsubasa tells a story about a soccer journey dealing with a soccer prodigy Tsubasa Oozora. From his elementary school soccer tournament to playing in the 2002 FIFA World Cup. 
The writer Youichi Takahashi created this series in honor of the 1978 FIFA World Cup in Argentina. As of today, the series has sold over 80 million copies from around the world.
It became so popular that it created many prominent soccer players such as Hidetoshi Nakata (a Japanese soccer player) and Zinedine Zidane (a world-class French soccer player).
Why you should watch it?
With the dynamic and spectacular football moves being displayed in the entire series, Captain Tsubasa would make everyone feel inspired to play soccer the moment the show ends. You'll watch as Tsubasa would embark on a journey with many friendships to form, rivals and opponents in Japan and around the world to face against, and life lessons that can be used inside and outside of the soccer field. 
Since I am a huge soccer fan and soccer being the biggest reason I love about Japan, it was a great anime for me to watch since it's one of those classic anime series that still become popular for last generation and this generation. Overall, it shows how powerful a soccer ball can do for not just one person but for the entire world.
One Piece
One Piece was made by Eiichiro Oda and produced on Toei Animation. The anime series started on October 1997. It was licensed by 4Kids Entertainment in North America in 2004, then acquired by Funimation in 2007 (and also Cartoon Network/Toonami). The anime and manga series has been super popular from around the world with over 450 million copies being sold worldwide.
The series tells a story of Monkey D. Luffy, a young boy with powers to stretch his body in many ways, and his adventures with his pirate crew in order to become the King of the Pirates by finding One Piece. 
Why you should watch it?
The reason you should watch One Piece is the storytelling, the personality, and characterization of every character in the series, and the unexpected humor that was in the series. I personally like the powers that Luffy and the others have that made them become powerful against their opponents, and growing up watching a boy stretching their body in many different ways was really eye-popping (I should say) because it was kinda rare for me to see an unusual power like that. 
In spite of that, my biggest concern is trying to catch up on the series. It was shocking for me to hear that it has almost 900 episodes as of today. It would literally take me about a couple of months for me to catch up on the series (maybe a month if I binge nonstop). 
Dragon Ball
Dragon Ball was created in 1984 by Akira Toriyama. It was based on the adventures of Son Goku and his quest to being one of the most powerful characters in Dragon Ball. It shows the adventures he went, the opponents he faced, and the many forms and training he went through to become stronger.  He travels the world in search for the 7 Dragon Balls to summon Shenron, a wish-granting dragon.
Dragon Ball has not just been a Japanese icon, but a worldwide icon. WIth many seasons dating back from 1986, and many video games and movies created, the anime being extremely popular is an understatement. Many people believe that Dragon Ball was the biggest influence for boosting Japanese culture internationally. It became mentioned by many artists, athletes, and celebrities around the world.
Why you should watch it?
The reason you should watch the series is there are so many powerful characters that it's really hard to underestimate anyone in the series. Well, except for Mr. Satan because... it's Mr. Satan... Nothing really powerful about him except for his arrogance. Plus, hearing about a character that's so powerful that it can destroy a planet with a single finger is mostly unheard of. Kinda makes the Death Battle between Goku and Superman extremely biased.
Ace of Diamond
The final recommended anime to start your journey is Ace of Diamond, a baseball series. It's based on a baseball player named Eijun Sawamura, a pitcher that has an unusual upper hand by his flexible body. With it, he became shockingly dangerous for most batters facing him. So, he embarked on many challenges and opponents to become the ace of his high school team, Seido High. 
The series was made by Yuji Terajima in 2006, and the anime series debuted in 2013. In 2010, the series won the Kodansha Manga Award for being the best shounen manga. Between 2011 and 2015, Ace of Diamond was ranked top 30 for most copies sold. 
Why you should watch it?
When it comes to favorite sports, baseball is a close second for me. I really enjoyed watching this anime because it shows what Koshien (national high school baseball tournament) looks like in a third-person point of view.
The emotions that many Japanese high school baseball players have to deal when it comes to training, great victories, crushing defeats, and having to play on their final game for high school seniors. 
Also, while Eijun is loudmouth and hardheaded (like Naruto Uzumaki), it's really nice to hear people coming from small towns having success during their transition to big cities. I personally believed the series was based off a real person named Eiji Sawamura, a Japanese high school baseball player that faced against many American greats back in the 1900s.
Final thoughts
While I did show my five anime series you should try to start your anime journey on, there are many different ways that you could start your journey on. It could be you can start from the classics and work your way up or you can start on the most recent series that's airing right now, there are plenty of ways for you to start on your journey on Japan's most iconic pop culture. 
Sources:
https://en.wikipedia.org/wiki/Captain_Tsubasa
https://www.giantbomb.com/zinedine-zidane/3005-9957/
https://en.wikipedia.org/wiki/One_Piece
https://onepiece.fandom.com/wiki/One_Piece_(Anime)
https://en.wikipedia.org/wiki/Dragon_Ball
https://en.wikipedia.org/wiki/Ace_of_Diamond
https://en.wikipedia.org/wiki/Naruto
---